INTERNATIONAL EXCELLENCE

An enviable combined pedigree of Australian constructors Austal Ships, Interiors by renowned Swedish company Tillberg-Design, combined with the local knowledge, and extensive experience of the Ship's team. Tu Moana and her sister Ti'a Moana display the sleek lines of a luxury private motor yacht, each vessel is identical in all areas with the exception of the interior décor.

Each mono-hull cruise yacht is 69.1 meters or 226'7" long, has a broad beam of 13.8 meters or 45'3" and displaces 2,677 tonnes. Power is from two MTU engines that offer a high-speed of 16 knots, and an easy cruising speed of 12 knots.

TECHNICAL SPECIFICATIONS

One of the most innovative features is the 2.3 meter or 7'1" draft. Given the average depth of the leeward island lagoons is a mere 5 meters, this unique hull design enables our cruise-yachts to access areas of the lagoon

that the larger ships can only dream about. This concept has been operated and proven on a number of new vessels and offers a high level of stability and comfort in the open seas.


CABINS - SUPERIOR DESIGN AND FINISH

There are just 35 cabins on each cruise yacht in 3 different layouts on three decks. Average cabin size is 15.6 square meters or about 170 square feet. The cabin design offers a feeling of space through the use of a glass-surround bathroom, large pictorial windows, and other elements. Ceiling height is a healthy 2.3 meters or 7'6".

Each Cruise-yacht guest room is equipped with the following :

Individually controlled air-conditioning.

Personal combination lock safe.

Flat screen television .

Individual DVD/CD player.

Telephone.

Mini-bar & refrigerator .

Writing desk and stationery.

Hand-blow glass fruit-bowl and fruit.

Occasional furniture.

Under-bed suitcase storage area.

Beside reading lamps.

Cotton bathrobes.

Large Beach bag.

Phillipe Starck designer basin.

Fitted hairdryer.

Adjustable shower-head with temperature control mixer.

Exclusive hypo-allergenic bathroom amenities including :

  - Natural tiare-perfumed coconut soaps ;

  - Monoi moisturizing and soothing body lotion ;

  - Monoi satin vitamin enriched oil for skin nourishment & protection ;

  - Tiare-perfumed conditioning shampoo.

High quality European bedding and linen :

   - high thread count bed linens.

   - exclusive Kenzo throw.

   - Queen size bed.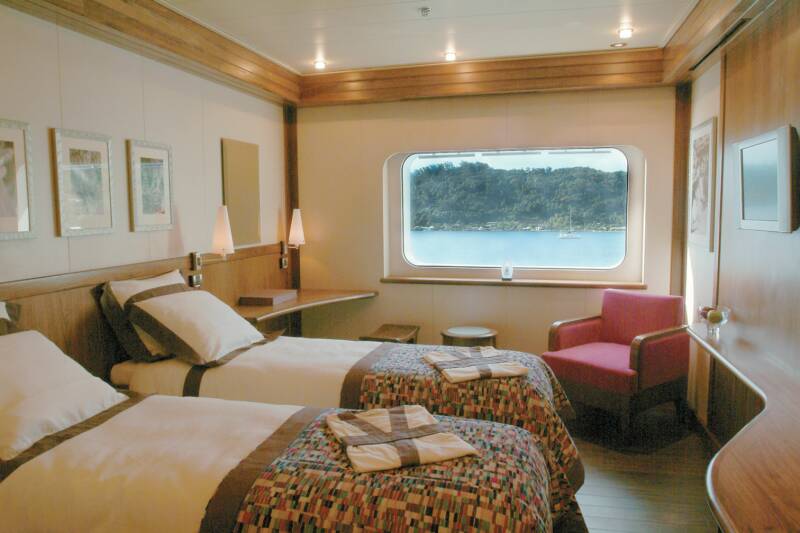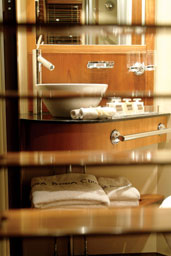 Relax and make yourself at home, aboard your own private yacht.

Help prepare a traditional Tahitian feast – and relish the fruits of your labour…

Relax on the sundeck, and dip in the Jacuzzi, whilst we slip quietly across the lagoon…

Join us on our kayak expeditions to delightfully interesting places… especially to explore French Polynesia's only navigable river.

Maybe learn to play a local Tahitian drum, strum a local guitar, or just tap your toes…

Visit special small 'Motu' islets, play petanque, float lazily in the lagoon and explore secret snorkelling spots...

Visit a quaint village and its surrounds by bicycle .

  Take a seat in our "lagoon restaurant" for breakfast – immaculate table settings, white sand and tepid clear waters

Call into a special Tahitian Pearl farm and witness the creation of next season's fashions…or...

Settle under the stars as we show classic movies projected upon a sail between two palm trees on a small Motu islet.

An easy trek up Mount Tapioi for sunset, expansive views and a Maitai cocktail.

Succumb to a stress-relieving massage or a manicure or pedicure for the deserving.